There has been plenty of excitement with Lee Hsien Yang's (LHY) foray into politics with Dr. Tan Cheng Bock's Progress Singapore Party (PSP).
Singaporeans were disappointed when it emerged on Nomination Day that he was not going to contest GE2020. They believed that an LHY-led team contesting Tanjong Pagar GRC would've given the PAP team there a tougher fight.
Nevertheless, his presence on the ground is welcomed by young and old alike. Like Dr Tan Cheng Bock pointed out, LHY is special. He is in the unique position of being the son of Lee Kuan Yew - one of the men who built PAP into what it is today.
Human rights activist, Kokila Annamalai, is not as enamoured. While she lauded him for encouraging greater politicial participation, transparency of governance, and a more independent media, she, unlike many Singaporeans, welcomed the news of LHY not contesting the GE with PSP.
She took umbrage at LHY and his supporters for their framing the older PAP as a kinder, less authoritarian regime compared to the current PAP. Kokila felt that this was tantamount to them trying to rewrite history.
I'm also glad he is choosing not to run. But we must push back against the framing by LHY, some opposition parties and a growing pool of anti-establishment voices who frame the current PAP government's repressive and authoritarian characteristics as a departure from LKY's values and leadership.
Kokilla didn't mince her words. As frequently suggested by LHY and PSP, she argued that PAP has not lost its way. In fact, the state of the PAP that we have now is the result of its consistent vindictive, authoritarian approach over the years.
The PAP has not lost its way, as LHY alleges. This was always its way. LKY was the original architect of the path the PAP government continues on. LKY destroyed dissidents' lives, ensured all public institutions were under his authority, rather than retain an independent check and balance on the government, depoliticised the Law Society, intimidated and controlled the media, terrorised and detained activists, obliterated the separation between the state and party, groomed his son for PM and built an opaque structure where the ruling elite could govern without accountability and with impunity when they erred.
She urged people not to forget LKY's. She also pointed out that LHY himself was complicit to the entrenchment of the PAP's authoritarian rule because he never challenged them until he himself had a "personal stake in challenging his brother". As a member of the Lee family, he benefited from the repressive system set out by tthe party.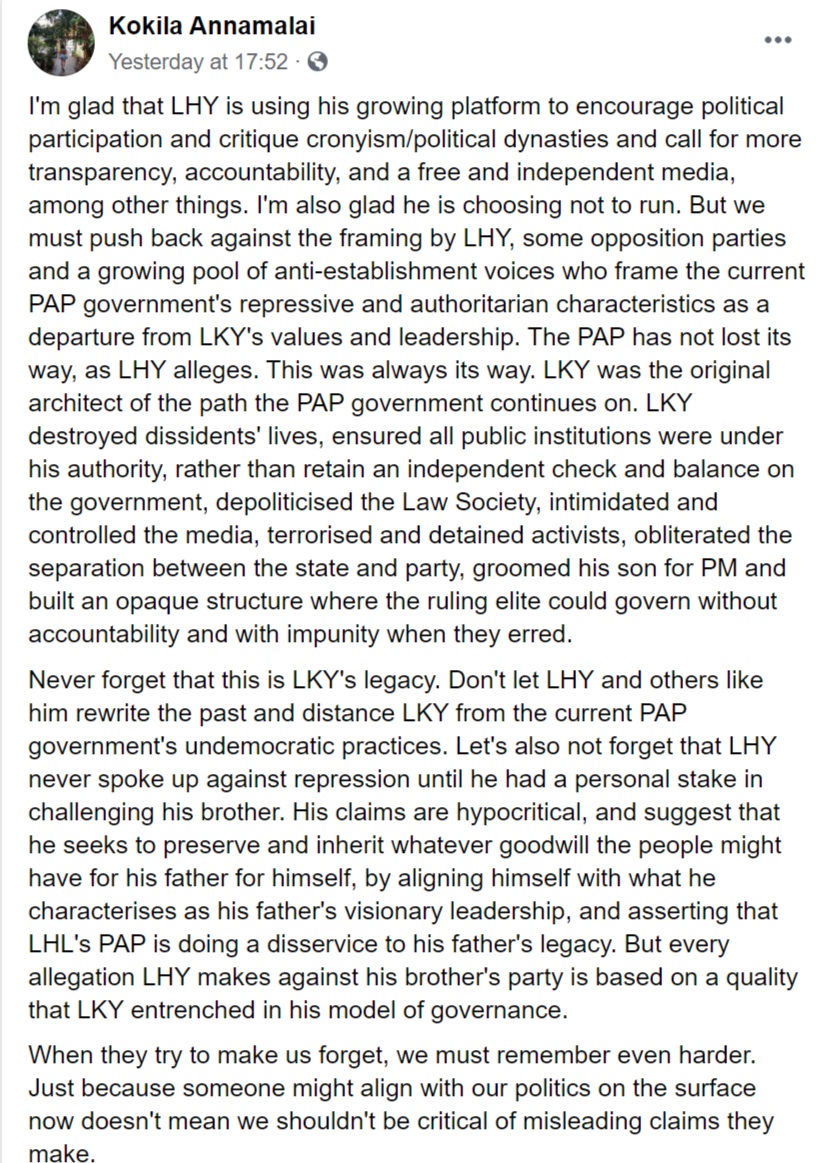 In essence, she believed that LHY is hypocritical for his long silence throughout PAP's rule.
Never forget that this is LKY's legacy. Don't let LHY and others like him rewrite the past and distance LKY from the current PAP government's undemocratic practices. Let's also not forget that LHY never spoke up against repression until he had a personal stake in challenging his brother. His claims are hypocritical, and suggest that he seeks to preserve and inherit whatever goodwill the people might have for his father for himself, by aligning himself with what he characterises as his father's visionary leadership, and asserting that LHL's PAP is doing a disservice to his father's legacy. But every allegation LHY makes against his brother's party is based on a quality that LKY entrenched in his model of governance.

When they try to make us forget, we must remember even harder. Just because someone might align with our politics on the surface now doesn't mean we shouldn't be critical of misleading claims they make.
Needless to say, this is a controversial opinion. Is she starved of attention?
Calling LHY a hypocrite?
Whose side are you on?