Swedish black metal band Watain had their show in Singapore cancelled due to "security concerns". The band was supposed to perform yesterday when the MHA and IMDA both agreed to cancel it. On the day itself. 
This comes after some Christians voiced concerns of Watain's satanist views and deemed its music as a negative influence on youths. An online petition started by a "Rachel Chan" called for the ban of satanic groups in Singapore and has since accumulated more than 17,000 signatures. 
It seems like it was not enough that the concert was already rated R18 and not allowed to have religious references. On the other hand, having 17,000 signatures was enough to make the authorities scramble for a last minute decision to cancel the performance on the day itself.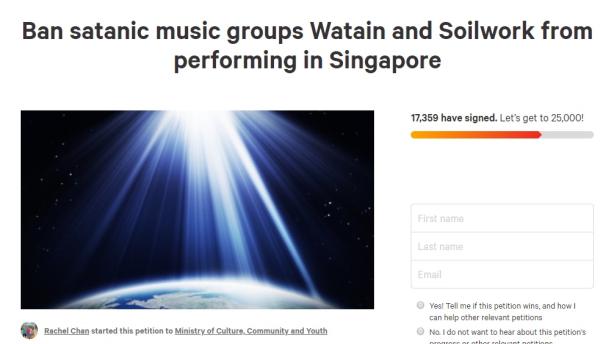 In a statement by the IMDA, it said that "MHA has expressed serious concerns about the concert, given the band's history of denigrating religions and promoting violence, which has potential to cause enmity and disrupt Singapore's social harmony... MHA has therefore asked IMDA to consider cancelling the concert for reasons of public order, and IMDA has agreed."
It is no surprise that fans as well as non-fans with common sense are angry at the sudden decision. Some have blamed the authorities for overreacting to the complaints of a particular community. It is also not the first time some Christians have raised issues with concerts in Singapore. So why pander to their repeated whining? Why encourage them to think that their incessant whining are justified?
Amidst the backlash, a "Seth Lim" started another petition for the MHA to reinstate and reschedule Watain's show. So far, more than 1,350 people have signed it.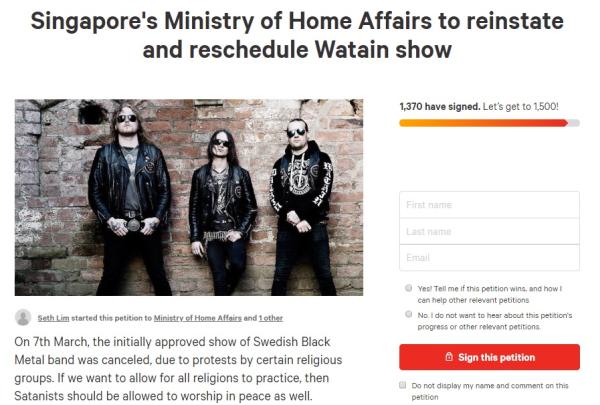 Do you think the authorities will be pressed to reinstate it? If not, why the double standards? 
The authorities have no one but themselves to blame for their embarrassing decision. In the words of Watain's frontman Erik Danilsson,  
"We have been touring around the world for nearly 20 years and believe it or not, never have we encountered such old fashioned retardation... [it is] as if our supporters in Singapore were incapable of deciding for themselves."
Great. Now we are internationally famous for being old fashioned and retarded. Even Singaporeans are unsure if the authorities are capable to decide for themselves.