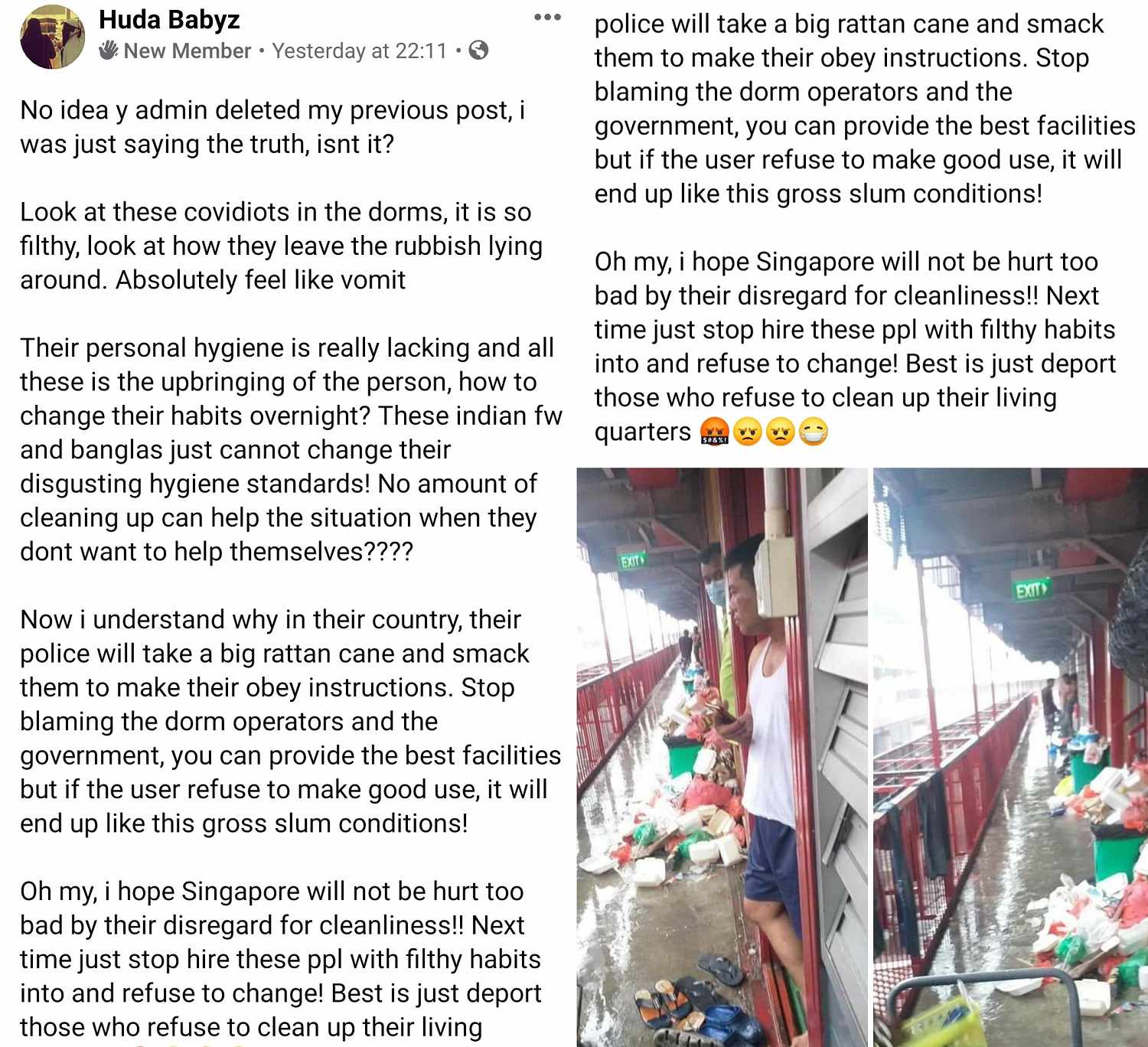 Dear Editors,
Singapore is facing a national crisis unseen of in recent years but now the uglier side of Singaporeans are creeping out from the woodwork. This lady going by the name of Huda was extremely unapologetic and downright racist towards our migrant workers.
She posted photos of an unnamed dormitory in Singapore, showing rubbish strewed all over the corridor while foreign workers stood by idly like it was nothing. She alleged that these foreign workers were covidiots and their disgusting personal hygiene was to blame for the uncontrolled spread of the virus within the dormitories.
"Their personal hygiene is really lacking and all these is the upbringing of the person, how to change their habits overnight? These indian fw and banglas just cannot change their disgusting hygiene standards! no amount of cleaning up can help the situation when they dont want to help themselves????
Now I understand why in their country, their police will take a big rattan cane and smack them to make their obey instructions. Stop blaming the dorm operators and the government, you can provide the best facilities but if the user refuse to make good use, it will end up like gross slum conditions!"
Then came the racist unacceptable bit, she asked for those foreign workers with poor hygiene and refused to clean up to be deported. Its like come on, it is their culture and their upbringing, how do you expect them to change their habits overnight? It is impossible to get these migrant workers to change their social norms and behaviour right?
Just look at Singaporeans, are you saying we are all the epitome of cleanliness? Hell no, there are still covidiots spitting on the floor and walking around in groups like a boss and they do not give two hoots about what's happening in the world right now.
If this lady is asking for dirty foreign workers to be deported, can we also ask for dirty Singaporeans to be jailed or have their citizenship revoked?
In times of crisis, it is important to remember our humanity and not act like a racist bigot that only care for their own well-being. Empathy and kindness will go a long way in this trying time.
This post was contributed by Haikal, a Polytechnic student studying Communications