Several clusters linked to foreign worker dormitories have raised concerns that a larger transmission may occur. To prevent an outbreak that may become uncontrollable and overwhelm our healthcare facilities, the affected dormitories have been shut down and the workers have effectively been quarantined within the facilities.
Netizens however were outraged when pictures and videos of their living conditions emerged showing less than sanitary, as well as crowded, living conditions. The Manpower Minister, Josephine Teo, acknowledged that the issue and ordered a thorough clean-up of the dormitories.
If those conditions didn't come to light, the foreign workers' health may deteriorate due to their extended exposure to the filth.
Local influencer, Preetipls, and her friends from Utopia, wants to help them. She wants to raise $100,000 for the migrant workers through two organisations that attend to the imediate needs of the migrant workers – Health Serve and Transient Workers Count Too (TWC2).
Apart from those quarantined at the dormitories, there are other groups that are under financial, physical and mental stress borne out of the pandemic:

1. Migrant workers who are currently living in the dormitories but not under quarantine face the following problems:

SALARY: MOM has announced that workers who are in quarantine will continue being paid their wages. However, the rest of the workers who are not in quarantine will not be receiving any wages during this time since most job operations have ceased. Within the current language of the policy, there is no wage protection for non-quarantined workers.

FOOD: The regulation of mandatory 3 daily meals also does not extend to workers who are not quarantined. While some employers are catering food for their employees, some have stated that the corresponding amount of money spent on catering would eventually be deducted from the worker's next salary (estimation of $100-125).

2. Special Pass Holders

Special Pass holders are those who are given a legitimate reason to stay in Singapore despite not being legally employed, mostly because of outstanding disputes/compensations/employment issues that have yet to be resolved. Since they are not allowed to seek work during this time, they do not have access to accommodation, necessities or disposable income. More importantly, they are not eligible for any of the above government resources during this pandemic.

These are some of the reasons why you should care about the migrant workers and show your appreciation by donating to the cause at give.asia/donatepls.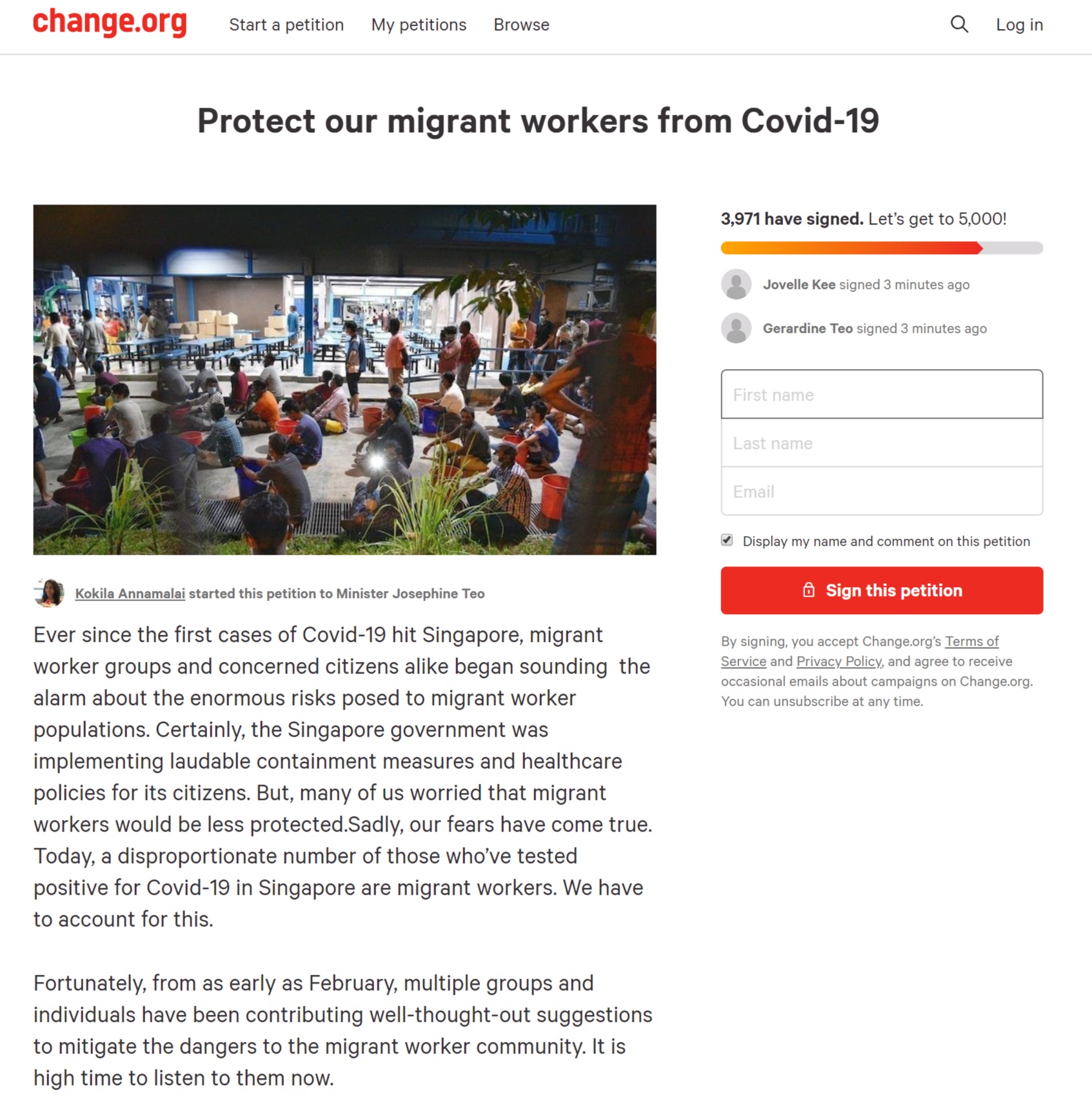 You can also sign the petition calling for the Manpower Minister, Josephine Teo, to protect our migrant workers from COVID-19. It was started by a concerned Singaporean, Kokila Annamalai. They are very close to the target of 5,000 signatories.
Utopia
A group of friends bound by a collective sense of purpose to use our voices and creativity to share community-oriented stories towards justice and resilience building. We are not affiliated with any business or government organisations.

Jake Low
Jean Hew
Shelby Ellis Goh
Subhas Nair
Victoria Sim
Vivian Chan Ker Ling
Weilee Yap